Watch BBC iPlayer in Australia
Get instant satellite access and watch Free-To-Air TV from home, abroad.
What channels can I watch with LivingAbroad.tv?
Your membership gives you live, worldwide access to 50+ free-to-air channels from the United Kingdom, Ireland and France. The channel lineup includes popular British channels like:
Watch on any device
iOS phones, iPads and tablets, Android phones, Mac, Linux and Windows desktops/laptops, Google Chromecasts and Chromebooks Televisions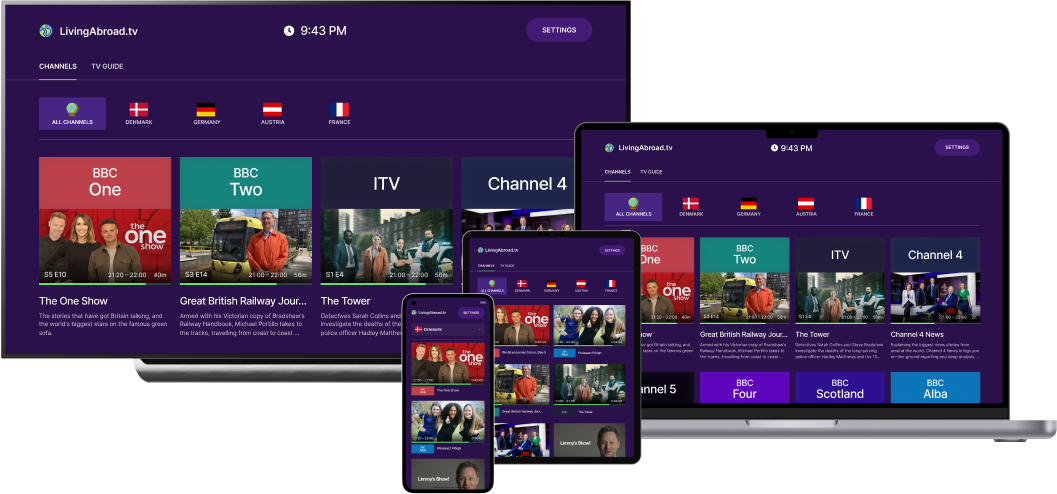 Why can't I watch BBC iPlayer from Australia?
The BBC's catalogue for 2021 is interesting as some of the most popular shows are back. This year is good for fans, whether you're looking for more time travel adventures with Doctor Who or looking forward to the Top Gear Series 30. You can play these shows and much more directly on BBC iPlayer – but only if you live in the UK.
Australians have been banned from broadcasting their favourite British TV shows on BBC iPlay. Alternatives like Britbox or Acorn TV offer the same services like BBC iPlayer, but those who subscribe to both services know they don't meet the standard.
Well we have some better options for you to watch BBC iPlayer
How to watch BBC iPlayer from Australia?
To date, the most popular way to access various streaming services is to purchase a Virtual Private Network (VPN) that blocks a user's IP address, which means they are in the UK instead of Australia. To get a decent VPN, you need to and pay a monthly fee.
Others use the BBC's iPlayer proxy server. It hides an individual's IP address to make it look like it's in the UK. A proxy server is similar to a VPN but easier. You can use any free version of the proxy server but remember you would have limited bandwidth.
What are the best BBC iPlayer shows to watch?
DNA
It's the story of Joe Donovan, a retired forensic medical expert. He was suspected of murder. However, police suspected he might be responsible for the murder when his DNA was discovered at the crime scene.
Evidence was gathered against him, and Donovan tried to find out who was trying to involve him in this murder. Still, Donovan was worried he was suffering from a rare series of madness and began to suspect that he was indeed responsible for the murder. When he woke up from a blackout and found himself next to another victim, that suspicion grew stronger.
The show is rated 7.3/10 on IMDB
Merlin
The series reconstructs traditional myths. The young Merlin was sent by her mother to the Camelot Kingdom to be the personal servant of Prince Arthur. Meanwhile, Merlin learned that he had to use his magic to protect Arthur and hide because Arthur's cruel father, King Uther Pendragon, forbade the use of magic in Camelot.
Those who cast spells were executed. Over the years, after many adventures, Merlin and Arthur have become trusted friends. Merlin convinced Arthur to do his best to influence others to be the mighty king he wanted to be.
The rating of the show is 7.9/10 on IMDb
Last Tango in Halifax
It is the story of two old lovers. Celia and Alan are a widower and are in their 70s. They have been attracted to each other since the 1950s but never expressed their feelings. Celia and her parents moved away. They reunited now after their grandchildren agreed to join Facebook. Allen has been in love with Celia since she was 16. Celia is portrayed as a woman marrying a man she hates. After their reunion, Alan and Celia realized they were still passionate about each other since they were teenagers.
They depict the romance of Alan and Celia in Old age with the problems of their adult daughters.
IMDb rated the show 8.3/10.