Watch BBC iPlayer in Ireland
Get instant satellite access and watch Free-To-Air TV from home, abroad.
What channels can I watch with LivingAbroad.tv?
Your membership gives you live, worldwide access to 50+ free-to-air channels from the United Kingdom, Ireland and France. The channel lineup includes popular British channels like:
Watch on any device
iOS phones, iPads and tablets, Android phones, Mac, Linux and Windows desktops/laptops, Google Chromecasts and Chromebooks Televisions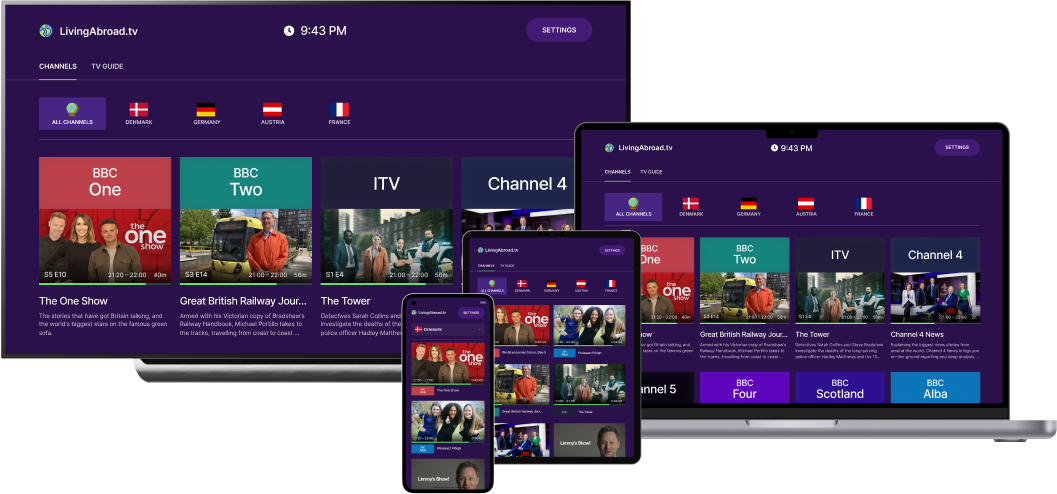 Ways to watch BBC channels in Ireland
LivingAbroad.tv (recommended)
LivingAbroad.tv works just like traditional satellite TV, with a slight twist on the technology. Tune in to receive satellite signals from free-to-air broadcasts.
Gain direct access to all your favourite satellite channels in Ireland without any additional equipment. Our plans are flexible. No fine print or contracts
iPlayer with a VPN (not recommended)
BBC iPlayer app is a video-on-demand service from the BBC. This is another way to watch BBC channels. The issue is that iPlayer blocks access from countries like Ireland. Sometimes using a VPN can help, but we don't recommend this method. Be aware that using a VPN is against iPlayer's Terms of Service (7.a) and may cause you some trouble in the future.
Why is using a VPN in Ireland with BBC iPlayer not a good idea?
Blocked Access
The BBC has been working really hard to block VPN providers in recent weeks and months. Most VPNs are not able to unlock BBC iPlayer. For guaranteed access to BBC iPlayer, install the Beebs Chrome Extension and watch from anywhere.
Legal Consequences
Using a VPN is a violation of iPlayer's terms of service (7.a). and users should be aware of the risks involved. In addition to the potential legal consequences, users who continue to use VPNs to access iPlayer may also be at risk of having their personal data and online activity compromised, as not all VPN services offer the same level of security and privacy protections.
Unreliable Streaming
VPNs can cause buffering and slow streaming speeds due to the rerouting of traffic through servers located in different parts of the world.
VPN vs. Proxy Server for iPlayer in Ireland
A proxy server is similar to a VPN in that it will mask your location in Ireland when trying to access the BBC iPlayer. The main advantage is that they are lighter than a VPN and will not slow down your connection.
The downside is that some offer a lot less security than VPNs, especially any free ones you may find. Also, you may have to fix some issues if things go wrong, but a little technical knowledge should be OK. Anyway, this solution has all the downsides of a VPN and provides no real benefit.
BBC iPlayer Schedule in Ireland
Check out the BBC TV guide on our website, adjusted to the local time in Ireland.
What is the difference between watching iPlayer and a live BBC channel from the SAT?
Live content
Live streaming on the BBC iPlayer or any other major live streaming service is always subject to much longer delays than on traditional TV platforms. For example, if you are watching the World Cup on iPlayer, expect your neighbors to be cheering a goal before you see it. During England's opening game versus Iran in the 2022 FIFA World Cup, fans took to social media to complain of the delay, which left them behind each time a goal was scored.
Catch-up content
On the other hand, catch-up content on BBC iPlayer refers to content that has already been broadcast and is now available for viewing at a later time. This type of content is usually made available on the platform shortly after it has been broadcast on television and can be watched at any time. The availability of catch-up content on BBC iPlayer is usually limited, with some content only available for a certain period of time before it is removed.