Watch BBC iPlayer in Ireland
Get instant satellite access and watch Free-To-Air TV from home, abroad.
What channels can I watch with LivingAbroad.tv?
Your membership gives you live, worldwide access to 50+ free-to-air channels from the United Kingdom, Ireland and France. The channel lineup includes popular British channels like:
All devices are supported
iOS phones, iPads and tablets, Android phones, Mac, Linux and Windows desktops/laptops, Google Chromecasts and Chromebooks Televisions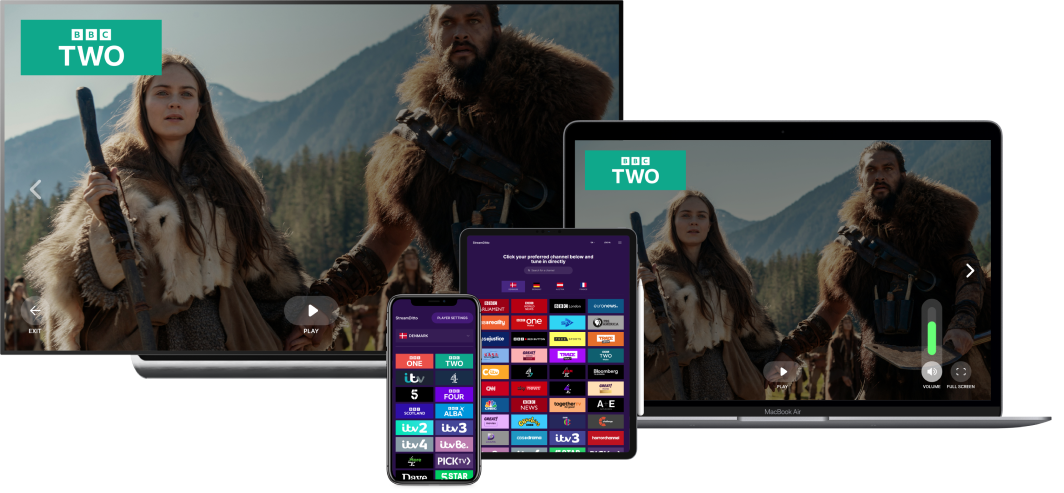 Why can't I watch BBC iPlayer from Ireland?
You are from Ireland, right? The good news is some new and interesting series has been launched by BBC iPlay, but the bad news is BBC iPlay is restricted in Ireland.
Yes, you read it right; you can't watch it only if you are in the United Kingdom.
But do not worry either you are a fan of Doctor Who, the serpent or top gear; you still have alternatives to watch them sitting here at your home in Ireland.
How? Well, you can use a VPN or a BBC Proxy server. Don't have an idea about it? Not a problem, let me explain and make it easy for you.
How to watch BBC iPlayer from Ireland?
Using the Right VPN
VPN is a private network to which you pay a monthly or annual subscription. It allows you to change the location of your device by providing a safe and private network.
The only problem that you can face with a VPN is selecting the right VPN because there are multiple VPNs, but the best suitable for the United Kingdom must be identified by you.
Using a Proxy Server
Proxy servers are free. Try to find the one that is suitable for BBC iPlayer. It functions more or less like a VPN, but since it's free, it allows you a limited bandwidth, and so you can't enjoy endless streaming of doctor who or top gear on BBC iPlayer.
What are the best BBC iPlayer shows to watch?
Other than the most famous shows that you might be aware of, we have compiled a list of three shows that you must watch.
Guilt
It's a thriller and mystery series which revolves around two brothers who accidentally killed an old man. The neighbours and relative of the dead man become suspicious of his death, and the life of the two brothers starts falling apart.
The first show was on air in 2019. However, The show is rated 7.4/10 by IMDb. Yet, it became a critical hit. It is now broadcast in Australia, France, and the Americas.
In 2021 India announced its remake in their language (Hindi). It's a great appreciation from a country to remake a show in its native language.
Normal People
It's a mini-series based on a novel with the same name published in 2018. the story is of a girl and boy from rural Ireland who move from their adulthood to their final undergraduate years. The story is of a friendship to intense love. The show is rated 8.5/10 on IMDb.
You would also love this show because it's an Irish production. The show has met great success for the content, performance, direction and aesthetics and writing. Above all, the show is nominated for four awards.
Like the name, it's a normal people story but beautifully explained.
I May Destroy You
A story of a young writer who is trying to rebuild her life after being raped. From mental trauma to stability and successfully managing life. The story of Arabella is impressive, and her struggle is applaudable.
It was the most acclaimed series of the year 2020. Even the New York times acclaimed it as "the perfect show for the anxious world. And the French newspaper Le Monde has included it in the list of top 10 be
The show is rated 8.1/10 on IMDb. The series has received two awards and was nominated for nine awards.
On What Devices Can I Watch BBC in Ireland Online?
iOS phones, iPads, and tablets
Android phones
Mac, Linux, and Windows desktops/laptops
Google Chromecasts and Chromebooks
Televisions
What channels can I watch on BBC iPlayer in Ireland?
BBC One
BBC Two
BBC Three
BBC Four
BBC Radio 1
CBBC
CBeebies
BBC Scotland
BBC News
BBC Parliament
BBC Alba
S4C