Watch BBC iPlayer in France
Get instant satellite access and watch Free-To-Air TV from home, abroad.
What channels can I watch with LivingAbroad.tv?
Your membership gives you live, worldwide access to 50+ free-to-air channels from the United Kingdom, Ireland and France. The channel lineup includes popular British channels like:
Watch on any device
iOS phones, iPads and tablets, Android phones, Mac, Linux and Windows desktops/laptops, Google Chromecasts and Chromebooks Televisions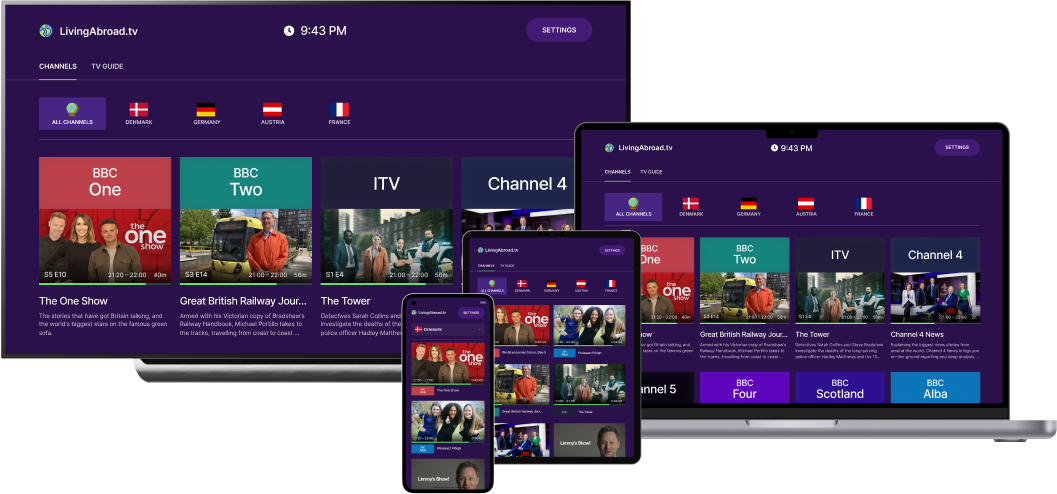 Why can't I watch BBC iPlayer from France?
In France, watching BBC iPlayer is problematic as the BBC has only opened its service to people living in the UK. Given the popularity of BBC shows in France, this is excruciating for the French and other foreigners who can't watch the shows they want.
The good news is that the French can access British content. So if you don't know how to do it, this guide describes how you can watch the famous show Death in Paradise or call the midwife series in France. Let us unveil for you the methods we know.
How to watch BBC iPlayer from France?
There are two ways to broadcast BBC iPlayer in France. One popular way is to purchase a virtual personal area network (VPN). A VPN with a personal connection can simulate your location, so you live in the UK, not France.
Everyone can watch BBC iPlayer. You may need some technical knowledge to set it up and maintain it, and the disadvantage is that it reduces the overall internet experience.
The second and limited option is to use a proxy server, which is limited because of its bandwidth limit.
What are the best BBC iPlayer shows to watch?
Death in Paradise
It's a British French crime drama. It's been a decade since the show was on the air, and the 10th series was completed in February this year.
The story is filmed on a French Caribbean island, Guadeloupe. The show has continued to be in the top three of the most popular shows in Britain, and IMDb has rated the show 7.8/10.
It was first focused on a police officer who had been transferred to the island to investigate murders, but as the series became popular more cases with new officers were introduced for the island.
Paris Police 1900
Paris police 1900 is a French crime drama series. The show started in October 2021. The show has a rating of 7/10 on IMDb
The story starts After the Dreyfus incident in Paris in 1899, and the Third Republic was about to collapse. The threats between nationalist and anti-Semitic anarchists and coalitions are manifold. In addition, President Felix Fall has now died.
In this tense situation, when the body of a young woman was found in a suitcase, Antoine Joint, a detective from a young criminal group, was instructed to conduct a sensitive investigation.
Call the midwife
It's a series about midwives working in the East End of London in the late 1950s and 1960s. This story was first made from a memoir by Jennifer Worth, who worked with the Anglican St. A John community. It describes the daily lives of midwives and the community.
This show is live from 2012, and till 2021it has completed 89 videos with an impressive rating of 8.5/10 on IMDb.
Apart from the fact that such series are of little interest to people, its performance and story have made it a huge success, and it is a must-watch show.