Watch BBC iPlayer in the USA
Get instant satellite access and watch Free-To-Air TV from home, abroad.
What channels can I watch with LivingAbroad.tv?
Your membership gives you live, worldwide access to 50+ free-to-air channels from the United Kingdom, Ireland and France. The channel lineup includes popular British channels like:
Watch on any device
iOS phones, iPads and tablets, Android phones, Mac, Linux and Windows desktops/laptops, Google Chromecasts and Chromebooks Televisions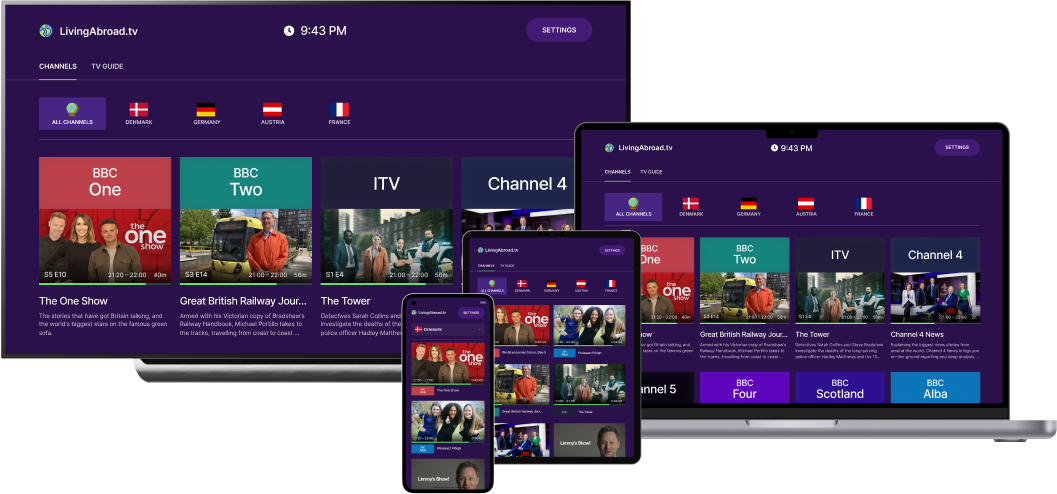 Why can't I watch BBC iPlayer from the USA?
It's frustrating when you are trying to get some results, but you meet failure, and it annoys you the most when you have to spend your leisure time watching your favourite show but can't watch it because it's on BBC iPlayer you live in the USA.
Yes, BBC iPlayer is blocked outside the United Kingdom, but it does not mean you can't watch the show you love. There are always options, but you have to unearth them.
We are about to unearth two such options that would help you access BBC iPlayer here in the USA.
How to watch BBC iPlayer from the USA?
Paying for a VPN (a virtual private network)
You might be aware of what VPN is and how it functions. No? not a problem, and a VPN changes the location of your device.
You and your device are now in the USA, but when you are using a VPN, your device appears to be in the United Kingdom or elsewhere on the globe.
Paid VPNs are helpful for online surfing and accessing the shows and data from other regions, but the only problem is that it's a hit and try method because some VPNs function better in one region and don't perform well in the other.
Finding the Proxy Server
As a second option, you can find the BBC proxy server. Proxy servers are similar to VPNs. It functions as an intermediary between your device and the website you are trying to land on by signalling the website that your device is in the same region, i.e. United Kingdom.
Proxies have some limitations. They are good only when you want to access them for a limited time. But if you wish to watch for longer periods or want permanent access, Proxies won't help. Although it's free yet the bandwidth it allows is limited.
What are the best BBC iPlayer shows to watch?
We have a list of the three best shows for you
Line of Duty
The sixth season of Line of Duty is about to be broadcast on BBC iPlayer. The first show was on air in 2012. The story revolves around the special and controversial anti-corruption unit of the police, AC-12
This series has achieved a ranking of 8.7/10 from IMDb.
Serpent
Co-produced by BBC iPlayer and Netflix is another Crime drama. It is inspired by a true story where a murderer and fraudster preyed on tourists in Thailand.
The conman named Charles Sobhraj drugs and robbed the young tourists. The passports of the victims facilitate him to steal their identities and create a new identity for himself to move around the world and sell gems.
A Dutch diplomat uncovers the death of young Dutch tourists and identifies the conman Sobhraj.
The season was aired in April 2021, and all eight episodes are available on BBC iPlayer.
Top Gear
If you are a car lover, you would surely be aware of this show. The show was aired in 2002, and by 2021 it has approx. Three hundred eleven episodes with 8.7 ratings on IMDb. It's a relaunched version of the show named the same in 1977.
What do you expect about this show? Cars and only cars? Yes, it's true from classic to modern cars, races, keeping and managing the exotic cars and the story of people who have been in this hobby for a long time.
As said earlier, it's a show for a person who loves cars and wants to enhance their knowledge and love for cars.